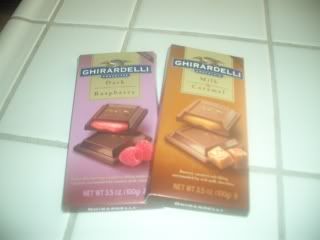 2 Squares of Chocolate
1 cup milk
prepared coffee or espresso
sugar to taste
Heat milk in sauce pan, add 2 squares of chocolate...stirred it until the chocolate was melted...let the milk heat, NOT BOILING IT!!
(
more more more
Collapse
)
Saw something similar on TV...I however thought it needed a lil more UMPH and well I always have good Chocolate on hand :)Today I used Dark Chocolate with Raspberry YUM!
Current Mood:

cheerful
click image for larger view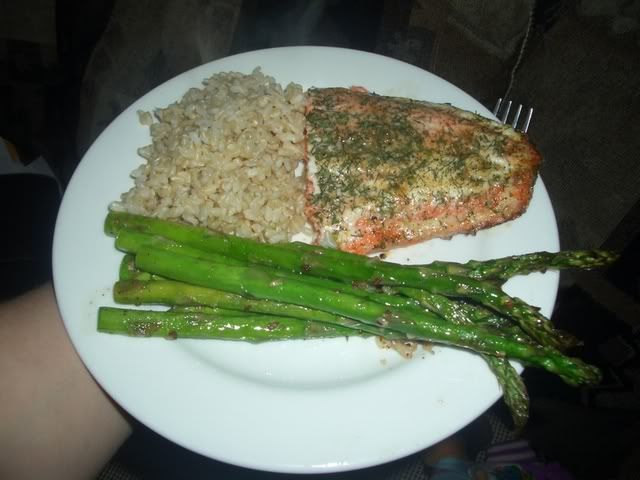 Grilled Salmon, Grilled Asparagus, & Brown Rice
Ingredients
Salmon fillet
1 lemon
3 Tbls mayo
onion powder
paprika
parsley
dill
salt & pepper
non stick cooking spray
Asparagus
olive oil
3 cloves garlic
chopped bacon
salt & pepper
Brown Rice
(
directions
Collapse
)
Somewhat? LOL I dunno but it came out spectacular! and I RARELY say that about my own food, but I was in the most excellent mood when I made it, I swear it came out in my food. and it was easy too :) I'm sure you'll love it.
Current Mood:

cheerful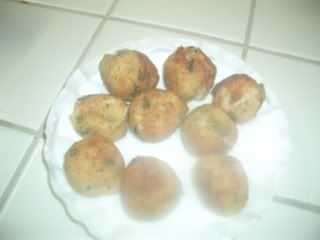 Ingredients
Left over mashed potatoes
green onions
shredded cheese
1/4 cup milk
2/3 cup bread crumbs
2Tbls. flour
(
On to the balls
Collapse
)
Im not sure what to call these. I just know I made them today & they were yummy...so I offer you the recipe & some pictures :)
Current Mood:

full


One of my "GOALS" I won't call them resolutions, is to cook more in 2008. I HOPE and plan on cooking 4 nights a week, with 1 night of left overs, 1 night of hubby cooking & 1 night of eating out. I hope that doing this...I can control my weight a little more, get my whole family to eat healthier, & expand on my cooking skills :P SO hopefully this thing will be getting filled up a lot faster than it is now.

Im also going to be working on the tags & memories sections of this journal to make it easier for people to find recipes in here.

I have 3 new things to add a yummy bacon & garlic asparagus, a feta & cucumber dip, and a slow cooker apple crumble :) They were all super easy & super yummy.

Im also going to add a TESTED TIPS section to this lj, Ill add tips I've heard of for the kitchen that I've tested & found to be true/work. If you have any Id love to hear from you.

You can also email me if you are looking for anything in particular? You looking for a recipe for something? OR not sure what to do with the holiday left overs? Feel free to E-mail me lovethemount@yahoo.com

Anyone interested in the 12 days of cookies? I had them emailed to me over the holidays & I have actually 26 days worth :) let me know and Ill start a section of those as well!

Again HAPPY NEW YEAR :)
I hope that you all had a wonderful New Years Eve...
Current Mood:

calm
left over
Tomato Soup
, left over
Mixed Veggies
, some chicken broth about 2 cups & 1 cup
Orzo pasta
salt, pepper, garlic & basil for taste :)
Threw it all in a pot and brought it to a boil...turned it down to a simmer until the orzo was cooked threw some
String cheese
on top and YUM O!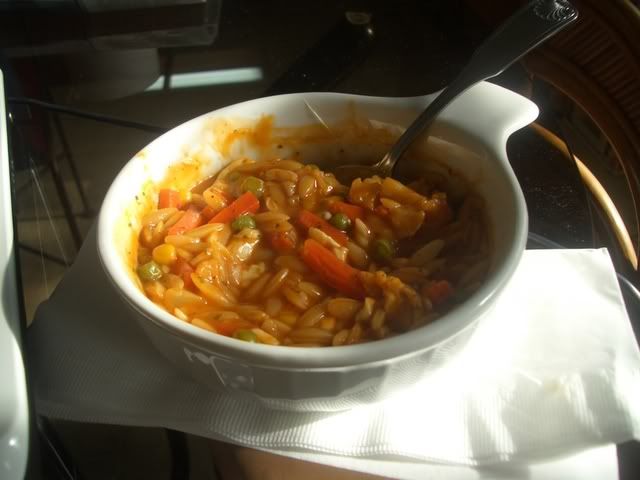 So I wasn't sure what I was doing here but I did it anyway...
Current Mood:

hungry
Ingredients
I
used...
1lb ground beef
1cup shredded cheese
1 can black beans (drained)
1 can diced tomatoes (drained)
1/2 cup to 3/4 cup frozen corn
5 to 6 flour tortillas
2 to 3 stalks green onion
2 cloves garlic
sour cream (garnish)
salt pepper & any other seasoning you like
(
instructions
Collapse
)
Ill let you decide what you wanna call it lol I call it my taco lasagna though ;)
Current Mood:

full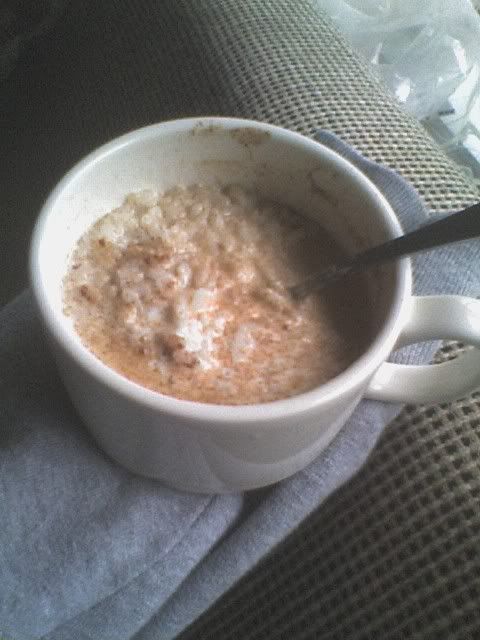 Sorry for the crappy pic my camera died & all I had was my cell phone lol
SO There are two ways to can make this...Ill give you the short & sweet version I do on a weekly basis at home.
Ingredients
left over steamed white rice
milk
sugar
cinnamon
(
click here for the rest
Collapse
)
Literal translation "Rice With Milk" it's something my family has always made for breakfast. Much like a Rice Pudding but not like custardy...its more soupy :) It's basically sweet rice & milk with cinnamon :)
Current Mood:

hungry


1 box life cereal (youll need about 6 to 7 cups worth of cereal)
3/4 to 1 cup chocolate chips
1/2 cup peanut butter
1 stick butter
1/2 cup cocoa powder

throw everything but the cereal & cocoa powder in a microwave safe bowl...for 30 seconds. Stir & put back in for another 30 seconds.

Place cereal in a large bowel (you will need the lid) or a gallon sized ziplock bag. Pour the melted mixture over the cereal, & sprinkle cocoa powder over the top. Seal with lid, or close the bag & shake!

I put it in the fridge for a few hours so the chocolate could set & we didn't end up with grubby fingers.

MIX IN's

Like Rocky Road??

Add in some mini marsh mellows & some walnuts!! SO yummy :)

Im making it again...and I think Im going to add 1/2 the peanut butter it calls for. Im also going to be using 1/4 less butter. But basically you can add anything to this. You can use white chocolate chips, butterscotch chips, or MINT yum! and as far as mix ins go..well shoot anything you can think of there! And its an awesome lil gift idea...when packaged properly :P My kids LOVED it!
Sorry no pic yet...will try to get one up ASAP...
Current Mood:

full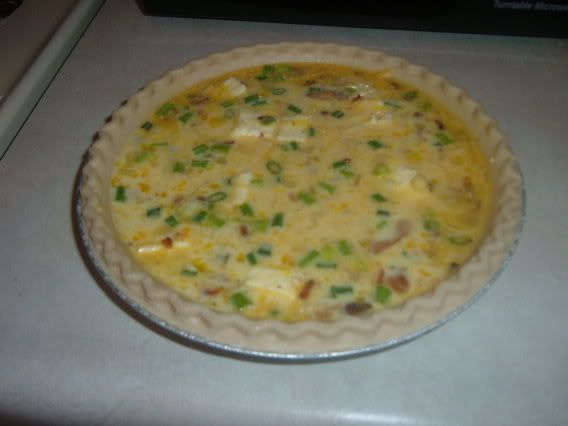 1 8 inch deep dish pie shell
2 - 3 eggs
1/2 cup cheese
1 cup milk
3 TBLS butter
salt & pepper to taste
and whatever you can find in your fridge.
(
what I used under the cut
Collapse
)
Current Mood:

full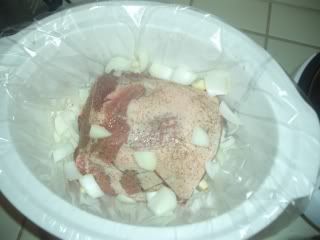 1 3lbs. pork tenderloin
1/4 of a yellow onion
4 garlic cloves
3/4 bottle BBQ sauce
salt & pepper to taste
(
Super yumminess coming
Collapse
)
Current Mood:

ecstatic