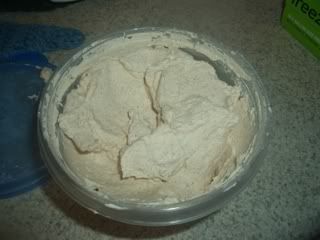 Ingredients:
1 pint heavy cream
1 1/2 to 2 teas ground cinnamon (depends on your taste)
1 1/2 to 2 teas honey (depends on the sweetness)
truthfully both ingredients other than the heavy cream totally depend on your tastes...you really gotta play with it to see how you like it. Start with a small amounts and add up...I LOVE tasting along the way haha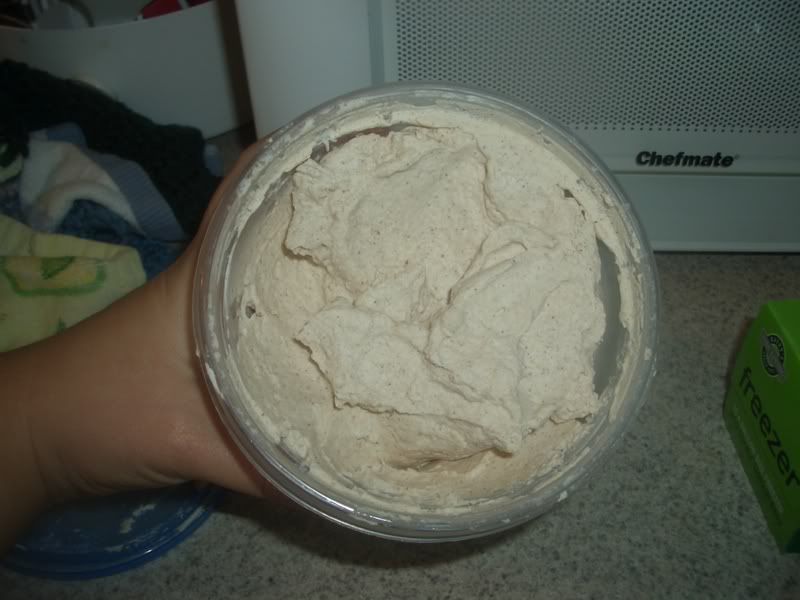 Now there are two ways you can make this batch of yumines...
First way
...is the way that I include my children in the process.
Take a plastic container preferrably one with a screw on lid...put all your ingredients in and SHAKE! haha shake shake shake shake shake...my kids love it cuz they dance around the house shaking the container. I have never really timed how long it takes but after a while you see the lil bits starting to form. If you can do it without opening it to check it will form a lot faster. BUT if you open it...you may see liquid in your container after closing it again
DONT WORRY
keep shaking. It will form...just keep shaking it. It will take a little longer. Store in the refridgerator It never lasts longer than a week in my house we go through it fast. So honestly I don't know how long it will keep.
Second way
...the faster way.
Take all your ingredients and toss them into a mixer or blender even a food processor...whatever you have works. Mix the for a few seconds stop and continue. You want to stop & check every so often because as it starts to form wit will stick to the sides. Open up whatever mixer you are using and spoon it back to the bottom. Mix mix again & continue the process til its the desired texture. This way is much more fluffier than the other way very smooth and SO freaking good. Either way both ways you make it...its sweet and good & melts instantly tastes good in oatmeal on toast or good lord corn bread & waffles holy jebus its yummy!