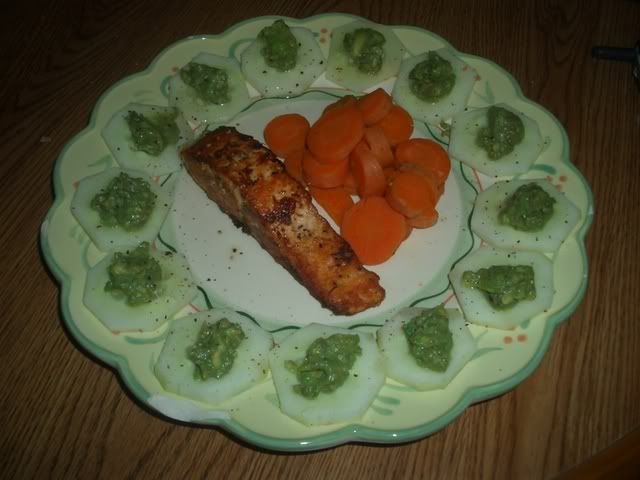 Ginger Salmon
Steamed Carrots
&
Cucumber with Avocado mash with a dash of pepper & lemon
It was incredibly filling and less than 250 calories :)
I cut my Salmon into 3oz fillets, marinated 3 pieces with 1 tablespoon of EVOO and 2 tbls fresh grated ginger...added a pinch of salt & some cracked black pepper. Cooked in a pan on stove...with the oil it marinated in. 3 to 4 mins each side and it was perfect! A little crunchy with a super soft perfectly cooked inside.
Carrots were steamed in a pot :) the serving size was 3oz on those as well.
Cucumbers were peeled and sliced because they are so low in calories I served up 5oz worth...and topped each one with a tiny bit of avocado mash. 2tbls measured out and divided on to each slice, sprinkled on some more lemon & some cracked pepper!
The Avocado mash is nothing more than mashed up Avocados with some fresh squeezed lemon.
Let's recap here
3oz Salmon fillet marinated in EVOO, ginger, salt & pepper
3oz steamed carrots
5oz peeled & sliced cucumber
2tbls avocado mash & sprinkle lemon & pepper
242 calories
11 carbs
11 grams of fat
24 grams of protein
Super healthy nice and light & totally super filling I loved the combo of the foods :) I hope you try it & like it too!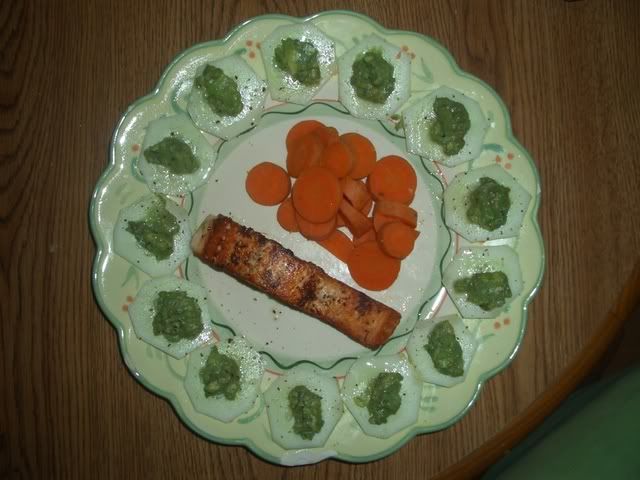 Current Mood:

full