Ingredients:
4 or 5 med to lrge bell peppers
1 pound ground turkey
1 can whole kernel corner
15oz salsa
1c cooked brown rice
1 clove garlic
1/4 cup shredded list
salt & pepper to taste
Take Bell Peppers and chop off the tops, take out the seeds. Take the tops and chop them into pieces you can use them in your meat mixture.
Brown your turkey meat adding the garlic and some salt & pepper, once you've cooked it more than half way through add the corn stirring til heated add your rice, and salsa stirring a few times.
Take your meat mixture and spoon it into the peppers stuffing them to the top...sprinkle each of the peppers with some of the shredded cheese. Put them in a baking dish and bake for about 20 mins on 350.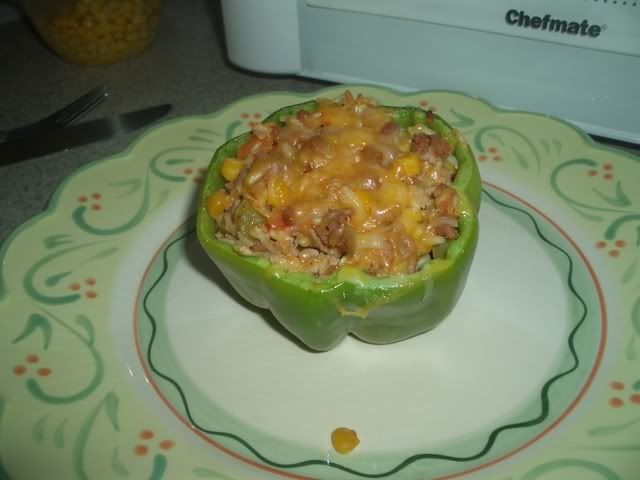 These things were so freaking filling it's not even funny. I made 4 peppers and had left over meat mixture which I used the following night for a single serving of nachos :) the mixture alone is pretty damn good too!
Current Mood:

full