Please check them out & buy them...and pimp her stuffs all over the place. She makes these all
BY HAND
he two little hands make each and every one of these bad boys so you know they are made with
LOVE!

Check her out & help her to "protect your land" Tell her Nay sent you!!


Verbage stolen from her Esty page

-CupKozys are a handmade, reusable alternative to the cardboard sleeves typically used at your favorite coffee shop. All are made with felt, chosen for its superior insulating properties and will fit most 12, 16 and 20 oz. disposable coffee cups. Best of all, they fit right in your pocket.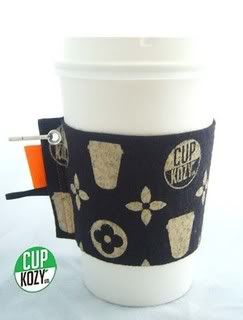 -Fact: If only 100 people use a cardboard sleeve with their daily coffee, it adds up to 1000 lbs of waste per year! Americans drink 14 BILLION cups of coffee served in disposable cups every year. Can you imagine the damage being done by the notorious "double-cuppers"? Let's help reduce the waste!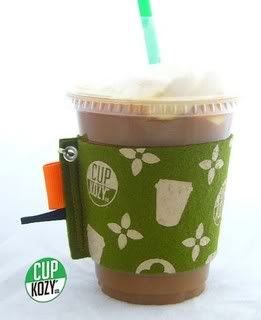 -The ideal eco-friendly scenario would involve carrying a reusable mug, eliminating disposable cups entirely. The truth is, even with the public's renewed interest in the environment, coffee shop patrons who carry reusable mugs are precious and few. By making a slim and compact product, I offer you an easy way to make a positive impact on the environment while enjoying a hot cup of coffee.
With CupKozy you can protect your hands and your land!
BUY CUPKOZY HERE!
A very wonderful girly of mine is the creator of the most awesome CupKozy's you will ever find. They are so freaking adorable, I have 2 already...and I'm getting ready to buy her news LV edition
Current Mood:

ecstatic